Small standard equipment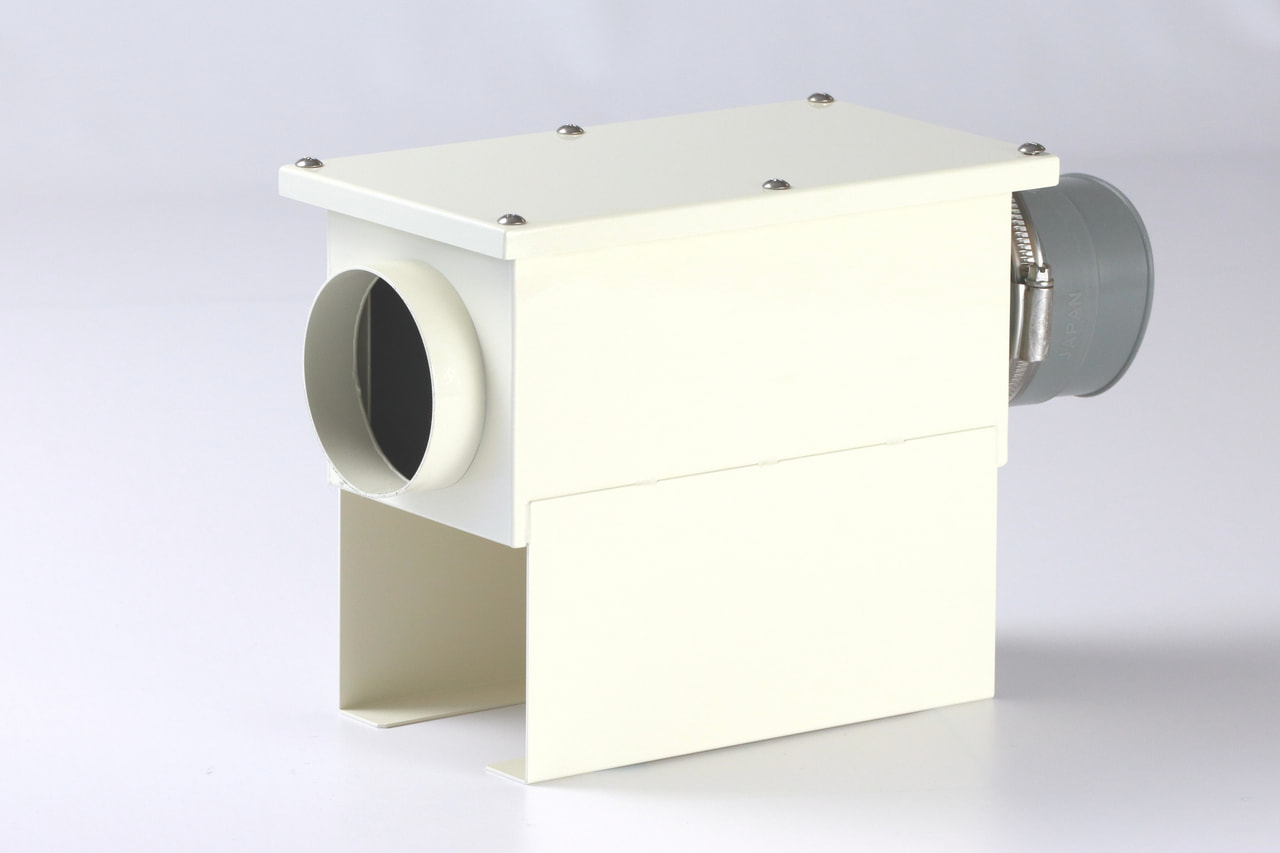 By connecting with ozone cleaning surface modification equipment, it can be used safely even in places without exhaust facilities.
The use of a high-performance honeycomb catalyst of our own design achieves optimum ozone decomposition for each of our equipment.
---
Features
Uses a honeycomb ozone catalyst developed for high-concentration ozone removal.
The reactive catalyst type with improved decomposition rate reduces deterioration and has a long service life.
It is a nonflammable type, so it can be used with peace of mind.
---
Specification

Model

AOZ013

AOZ014

Outside dimensions

W128D241H184.2mm

Approximate Weight

Approx. 2.5 kg

Connection diameter

φ75mm(Both Input and Output)

Catalysts

High-performance honeycomb catalyst 3 sheets

High-performance honeycomb catalyst 4 sheets

Outlet concentration

0.1ppm or less

Catalyst designed life

500 hours(Continuous use)

Blowers

Made by YODOGAWA Electric Tool MFG NK2L [100V、1.2A(50Hz)1.0A(60Hz)]
To prevent catalyst damage, do not use the equipment in a place where mechanical load such as dropping or vibration of the equipment is expected.
Note that moisture, such as condensation, will also affect the life of the catalyst.
---
Example of connection of another company's equipment
Example of connection to another company's equipment (SSP16-110/SSP17-110 tabletop optical cleaning and modification equipment manufactured by SEN LIGHTS Corporation Co.)
By retrofitting the ozone decomposition equipment, no exhaust duct connection work is required.
The retrofit connection itself takes only 5-10 minutes (only tools needed are screwdrivers).
In the case of SSP16-110 or SSP17-110, the connection duct diameter is the same, so the standard equipment can be used. We can also support ducts with different diameters, so it is possible to connect to UV irradiation equipment manufactured by other companies. Please feel free to contact us.
Photo provided by:Tokyo University of Science
---
Medium standard equipment
Connecting to plasma irradiators, UV irradiators, excimer irradiators, corona dischargers, etc. manufactured by other companies, the ozone decomposition equipment can be turned on and off in accordance with the timing of ozone generation for highly efficient operation.We can also directly arrange meetings with equipment manufacturers to discuss signal exchange with equipment made by other companies, so please feel free to contact us.
---
Model
AOZ044Ⅱ
Number of catalysts used
4 per layer and max. 4 layers
Equipment size
W 590mm D 340mm H 310mm(excluding protrusions)
Exterior material
Vinyl chloride (black)
Equipment material
SUS304
Built-in blower specifications
Maximum airflow 4.5㎥/min(50Hz) 5.5㎥/min(60Hz)
Maximum static pressure 0.6kPa(50Hz) 0.85kPa(60Hz)
Cable with 2m outlet
Connection diameter
φ100(with damper and 1.2m vinyl chloride duct hose)

Input-Output conditions

AC100V 1A
---
---